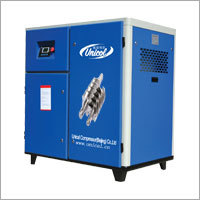 Screw Compressor
Product Code : 06
Product Description
Offered in nine different models, this Screw Compressor deserves praise for its high oil filtration capacity and advanced cooling system. Its microcomputer controlled operation and mechanical malfunction detection arrangement improve its operation. The interlock controlling arrangement of this compressor guarantees about its uninterrupted operation throughout a day. The sensor malfunction protection facility and overpressure prevention arrangement of this compressor help to minimize its downtime rate. Low noise and vibration rate, effective static and dynamic balance level, ease of installation, high insulation factor and application of heavy duty bearings are its key attributes. We are a prestigious exporter and manufacturer of Screw Compressor.
SLD Series Screw Compressor
Technical superior electrical control system,each compressor machine was installed microcomputer automatic control system for Maintenance Tips,with self-diagnosis and protection functions. Can achieve multiple units interlock control and remote control. Make sure you work 24 hours a day safely.
Excellent power system: to provide you with high-performance screw compressor.
Long-life design As a result of the selection of a high-fan motor completely closed, It reduced the motor coil temperature and the motor bearing temperature, greatly improving the reliability.Using F-class insulation, IP55 protection class, SKF heavy-duty motor bearings,that keeping safe, efficient, long life for compressor.
Low noise and low energy consumption twin screw compressor.

The rotor tooth type of air end has got the Patent No of United States, Germany, Japan. All of this kind machine was using the original SKF bearings or FAG bearings,did the dynamic and static balance test with rotor driving. It is more better balance for driving, smaller vibration, and lower noise.For Compression chamber and the bearing seat as a whole molding, with very high precision.

Efficiently three times oil and gas separate system

Oil and gas separator with excellent oil filter effect, through the centrifugal, gravity and fine filter three times separated system to make the oil content less than 3ppm.
Cooling system: Efficiently aluminum plate-fin oil and gas cooler. The fan cooler was driven by motor alone. The cooling wind through wind scooper blow toward to cooler directly. It has a large cooling area,and 46 ℃ high environment temperature to ensures the compressor normally working.
Filtration system: High efficiency air filter, filter out dust inhalated impurities from air gas prevent the injury of air end rotor and bearings.
Efficiently oil filter: Filter out the impurities in lubricating oil, provide clean lubricants for the air end rotor and bearings.
Safety protection: To protect for the motor.

Exhaust temperature protection: air compressor anti-reverse protection;
Pressure over-pressured protection;
Sensor failure protection;
Linkage protection;

Model no

Motor power (kv)

Power (Hp)

Air delivery (m3/min)

Working pressure (bar)

Lubrican t Oil (L)

Outlet pipe dia

LxWxH (mm)

N.W (KG)

SLD-22

22

30

3.5

7

15

G1"

1300x850x1220

550

3.5

8

3

10

2.6

13

SLD-30

30

40

5.2

7

20

G1-1/2"

1550x950x1380

700

5.0

8

4.5

10

3.8

13

SLD-37

37

50

6.5

7

20

G1-1/2"

1550x950x1380

800

6.2

8

5.7

10

4.8

13

SLD-45

45

60

8.0

7

20

G1-1/2"

1550x950x1380

900

7.5

8

6.9

10

6.0

13

SLD-55

55

75

10.3

7

30

G2"

1700x1100x1520

1600

9.6

8

8.7

10

7.5

13

SLD-75

75

100

13.5

7

35

G2"

2100x1250x1650

1900

12.5

8

11.2

10

10.0

13

SLD-90

90

125

16.3

7

40

DN65

2200x1250x1650

2100

15.9

8

14.0

10

12.2

13

SLD-110

110

150

21.0

7

50

DN65

2500x1500x1950

3400

20.0

8

17.0

10

14.8

13

SLD-132

132

180

23.5

7

50

DN65

2500x1500x1950

3400

22.5

8

21.0

10

18.0

13
Contact Us
Room 306, 2#Building, No.21 Sanhuan, Fengtai District, Beijing, Beijing, 100079, China
Phone :86-10-67646271