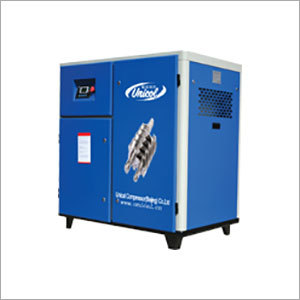 Permanent Magnet Inverter
Product Code : 09
Product Description
Permanent Magnet Inverter Screw Air Compressor

Energy saving is the biggest advantage of Permanent Magnet Inverter Screw Air Compressor.
Especially when the user with a large range of gas fluctuations, its flexibility and reliability, making the energy-saving advantages of inverter compressor is more obvious. Variable frequency adjustment is to adapt to changes in system gas demand the most effective control.
The converter have a soft start function, when it reached the set time (usually 6 seconds) will automatically switch to full load state. When the gas consumption is less than the rated displacement, the frequency conversion unit will reduce the frequency of the motor, the corresponding reduction in air volume; when customers stop using gas, the frequency of the motor frequency to a minimum, stop the intake, this unit is low Speed ​​No-load condition, operating at lower back pressure.
In the air compressor throughout the life of the purchase and use of air compressor costs are about 77% for electricity, therefore, energy-saving problem is very important.
Variable frequency speed regulation type Unical 37KW

For Example of Unical 37KW Permanent Magnet Inverter Screw Air Compressor's
annual power consumption (using 50% of air) Operating time: 6000 hours / year.
Ensure the cost of energy conservation and the maximum economic efficiency.
Inverter compressor according to the factory's need of compressed air requirements to produce compressed air, when the amount is not necessary to prevent the compressor no-load operation, the maximum cost savings.Inverter compressor with the general combination of compressor to avoid excessive investment. More energy than ever.

Variable-frequency compressors can make you do not need to pay attention to the change of gas peak
Unical air compressor can maintain the highest power factor in the whole frequency range, which can effectively prevent the enterprises due to various problems caused by low power factor.

No limited times of control of start and stop
No need to control the times of cold / hot start. No limited times of control of start and stop, saving electricity power.

Air compressor safety automatic adjustment
Unical inverter compressor can automatically adjust the exhaust pressure. This flexibility allows you to increase the capacity of your air system without having to increase other air compressors.

Stable system pressure

Ensure continuity of production process and reduce scrap rate.
Can make the pressure change range of the pipe network to maintain a precise 0.1bar.
In addition, less air system leakage, less air system storage requirements, reduce energy consumption, improve profits.
This high frequency motor

By using the special electromagnetic design, the harm of high order harmonic to the motor is effectively suppressed, and the low frequency output torque of the motor is improved.
the use of special frequency motor paint package line, to strengthen the insulation of the inter-turn insulation strength, especially the insulation resistance to shock resistance ability greatly enhanced.
Effectively avoid the phenomenon of low frequency resonance.
Using special cooling mode, to ensure that the motor at low frequency operation also has sufficient self cooling capacity.
Model no

Motor power (kw)

Power (Hp)

Air delivery (m3/min)

Working pressure (bar)

Lubricant oil (L)

Outlet pipe Dia

LxWxH (mm)

N.W(kg)

SLM-22

22

30

0.56-3.71

8

15

G1"

1100x850x1220

500

0.5-3.42

10

0.45-2.94

12.5

SLM-34

34

50

1.03-6.86

8

20

G1-1/2"

1150x1000x1410

750

0.91-5.95

10

0.80-5.27

12.5

SLM-45

45

60

1.32-8.79

8

30

G2"

1700x1100x1520

1200

1.16-7.73

10

20

G1-1/2"

1150x1000x1410

800

0.97-6.54

12.5

SLM-55

22

75

1.63-10.74

8

30

G2"

1700x1100x1520

1200

1.04-9.32

10

1.20-7.94

12.5

SLM-75

75

100

2.07-13.08

8

35

G2"

1878x1200x1620

1500

1.81-12.0

10

1.56-10.4

12.5

SLM-90

90

125

2.45-16.33

8

60

DN65

2500x1500x1950

2200

2.69-17.9

10

40

DN50

2200x1250x1650

1900

2.37-15.8

12.5

SLM-110

110

150

3.03-20.2

8

60

DN65

2500x1500x1950

2200

2.69-17.9

10

2.37-15.8

12.5

SLM-132

132

180

3.62-24.1

8

60

DN65

2500x1500x1950

2200

3.21-21.3

10

2.94-19.6

12.5
Contact Us
Room 306, 2#Building, No.21 Sanhuan, Fengtai District, Beijing, Beijing, 100079, China
Phone :86-10-67646271