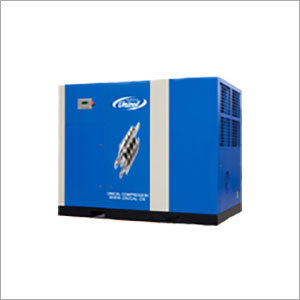 Oil Free Water Lubricated Compressor
Product Code : 07
Product Description
This Oil Free Water Lubricated Compressor is reckoned for providing totally oil free clean air. It adopts latest isothermal compression technique for its functioning. All its components are made of rust protected materials to ensure about its long working life. It consists of branded parts like air end, electrical section with reliable operation, stainless steel made pipes with high pressure and temperature fluctuation enduring capacity and stainless steel water filter for effective separation of water and compressed air. Its LCD touch screen has contributed to its user friendly design. We are a renowned supplier and manufacturer of Oil Free Water Lubricated Compressor.
Technical Solutions

Whether the water will rust air compressor?
Unical Water-lubricated oil-free compressors is used in line with drinking water standards,and for the stainless steel we just used the international standard 304 and 316,so that it will never be rusted.

Does water affect bearing life
Unical products are used the high-tech nano-technology, customized carbon-silicon bearings and ceramic bearings, it directly lubricated by water, no any problem for it.

Whether the water will be begrimed?
The system uses pure drinking water standards, water has been circulating in the system, and every 200 hours, the system will automatically change the water to ensure that the water does not increase the calcium content, and the host operating temperature is not higher than 50 º C , There is no begriming risk.

Will the efficiency get down of water-lubricated oil-free compressor?

Unical is the only one manufacture who truly master the essence of Water jet oil free screw air compressor. It inherited the German technology a century, so the main description of five-year warranty, the service life of up to 20 years or more, the use of 8 years after the single-screw host efficiency will not decline more than 5%

Whether the moisture content is high of Water lubrication compressor?
The air after compressed, the water content has reached a saturated state, the moisture content of compressed air only with the temperature, and other does not matter, water lubrication unit of compressed air water than other types of compressor.
Model no

Motor power (kw)

Lubricant water (L)

Air delivery (m3/min)

Connetor dia

Sound (dB)

Weight (kg)

LxWxH (mm)

LSB-7.5W

7.5

12

1.1/7

3/4"

55

500

1300x800x1300

1.0/8

0.85/10

0.7/12.5

SLB-11W

11

20

1.8/7

1"

56

540

1300x800x1300

1.65/8

1.5/10

1.3/12.5

SLB-15W

15

26

2.4/7

1"

57

650

1600x910x1350

2.2/8

2.1/10

1.8/12.5

SLB-18.5W

18.5

34

3.1/7

1"

58

840

1600x910x1350

2.9/8

2.7/10

2.3/12.5

SLB-22D

22

41

3.8/7

1"

58

870

1600x910x1350

3.6/8

3.2/10

2.5/12.5

SLB-30D

20

55

5.3/7

11/4"

60

980

1950x1050x1432

5.0/8

4.3/10

3.6/12.5

SLB-37D

37

70

6.6/7

11/4"

60

1000

1950x1050x1432

6.2/8

5.7/10

4.6/12.5

SLB-45D

45

87

8.0/7

11/2"

63

1060

2150x1300x1590

7.7/8

6.9/10

6.0/12.5

SLB-55D

55

100

10.5/7

2"

65

1250

2150x1300x1590

9.8/8

8.7/10

7.3/12.5

SLB-75D

75

100

13.6/7

2"

67

1480

2150x1300x1590

13.0/8

11.6/10
Contact Us
Room 306, 2#Building, No.21 Sanhuan, Fengtai District, Beijing, Beijing, 100079, China
Phone :86-10-67646271