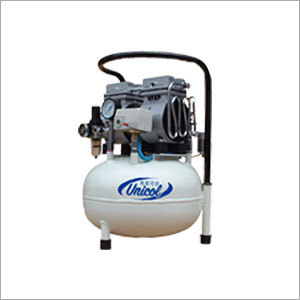 Mute Oil Free Compressor
Product Code : 10
Product Description
The green environmental protection
The offered compressor is known for its Eco friendly mechanism as it can be operated sans using any lubrication oil. Its oil free operation prevents emission of harmful gases. Moreover, it releases compressed air which is totally free from oil vapour and oil content. Most importantly, its oil free operation helps to save lubrication cost. To be precise, this compressor can be classified under environment friendly equipment.
The 100% oil free compressed air
The oil free operation of this compressor has made it ideal for applying in different industries engaged in food processing, drugs manufacturing and precision electronic items production works.
Low noise and maintenance free
Due to its minimal noise generation level, this compressor is suitable for those working conditions that require noise free environment.
High reliability
The provided compressor is the outcome of our thorough domain knowledge and constant research work in the arena of air compressor based technology. Necessary quality checking procedures have been executed to verify standard quality of this compressor. Necessary safety arrangement has been incorporated into its design to enhance its performance.
Small shake
Low vibration level, effective balance maintaining capacity, multiple shock protection arrangements and consistent operation are its key factors.
Energy efficient and durable
User friendly design

Oil free operation of this compressor not only simplifies its maintenance process, but also ensures its low operation charge. Convenient to handle and manage, its less downtime guarantees about its high output level.
| | | | | | | | | |
| --- | --- | --- | --- | --- | --- | --- | --- | --- |
| Model no | Power | Voltage | Working pressure | Air delivery (m3/min) | Volume of air tank | Sound | LxWxH (mm) | N.W (KG) |
| TVW-1A | 550W | 220V | 0.6mpa | 40L/min | 12L | 65dB | 185x435 | 14.6 |
| TVW-1A | 550W | 220V | 0.8mpa | 60L/min | 22L | 65dB | 185x45x65 | 25 |
| TVW-2 | 840W | 220V | 0.8mpa | 90L/min | 38L | 68dB | 48x48x73 | 28.5 |
| TVW-3 | 1100W | 220V | 0.8mpa | 110L/min | 50L | 64dB | 65x65x73 | 50 |
| TVW-4 | 1680W | 220V | 0.8mpa | 180L/min | 80L | 72dB | 108x45x77 | 58 |
| TVW-4A | 1650W | 220V | 0.8mpa | 170L/min | 80L | 72dB | 108x45x77 | 67 |
| TVW-6 | 2520W | 220V | 0.8mpa | 270L/min | 120L | 72dB | 121x51x96 | 92.4 |
| TVW-8 | 3300W | 380V | 0.8mpa | 360L/min | 175L | 72dB | 460x120 | 142 |
| TVW-10 | 4950W-7560W | 380V | 0.8mpa | 480L-810L/min | 200L | 72dB | 457x1300 | 150 |
Contact Us
Room 306, 2#Building, No.21 Sanhuan, Fengtai District, Beijing, Beijing, 100079, China
Phone :86-10-67646271