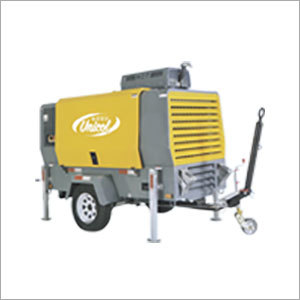 Motor Movable Screw Compressors
Product Code : 08
Product Description
Driven by diesel, these Motor Movable Screw Compressors are suitable for outdoor application purpose. These screw compressors are equipped with branded oil filter that helps to reduce their operating cost and maintenance charge. The insulated electric motor of these compressors is totally protected against chemicals and dust particles. The compressed air vessel of these compressors helps to improve air quality by reducing oil level present in air. Moreover, this air vessel helps to minimize pressure drop rate. Long working life and ease of handling are the key characteristics of these screw compressors. We are a reliable exporter and manufacturer of standard quality Motor Movable Screw Compressors.

Features:

High efficiency and low fuel consumption
This machine adopts the fifth generation screw to improve the performance of the compressor,meanwhile make the valuable fuel more effectively used.

Excellent low noise technology
In order to improve the anti-noise effect, in front of the radiator set ventilation channel. Inside the cabinet, the soundproofing material is placed so that the whole compressor is sealed. At the same time, a large low-noise silencer was adopted to meet the standards of the "Low Noise Type Construction Machinery Designation System" established by the Ministry of Land, Infrastructure and Transport and posted by the Ministry of Land, Infrastructure and Transport.

Exhaust gas type
Attention to environmental protection, safeguarding people's health, is the needs of today's social development. It is the basis of "Designation system for exhaust gas countermeasures type construction machinery" established by the Ministry of Land, Infrastructure and Transport, and is posted by the Ministry of Land, Infrastructure and Transport.

The running status is clear at a glance
Configuration of various types of instrumentation and safety systems, as well as the control panel for the gas valve, oil level, etc. are designed in the same side of the machine, easy to operate. All kinds of safety light more to run at a glance, corresponding to facilitate. And equipped with a very automatic stop device.

Daily Inspection It is convenient and easy to carry out maintenance
Engine cooling water, lubricating oil and other parts related to daily inspection, the parts are designed in the same side of the compressor, and the use of large door structure, the daily maintenance work more convenient and simple, handy.

Equipped with A heavy oil filter
According to the actual situation of the fuel quality of the Chinese mainland market, the standard equipped with A heavy oil filtration system, to maximize the performance of fuel filtration and reliable type.

Small and lightweight design
The car body is a movable structure, the front with a drawbar, can be free to be traction movement, even in the narrow construction site can also access freely. In the design of the maximum to achieve a lightweight, small, the actual small footprint, easy to transport. The central part of the body with a spreader to facilitate loading and unloading.

Model no

Motor power (kw)

Power (Hp)

Air delivery (m3/min)

Working pressure (bar)

Lubricant dai

Outlet pipe dia

LxWxH (mm)

N.W (KG)

SLDY-55

55

75

10

8

30

1-1" 1-1 1/2"

3320x1600x1800

1800

8.5

10

7

13

SLDY-75

75

100

13

8

35

1-1" 1-1 1/2"

2450x1700x2170

2300

11

10

10

13

SLDY-90

90

125

16

8

40

1-1" 1-1 1/2"

2400x1700x2170

2500

14.5

10

12

13

SLDY-110

110

150

20

8

60

1-1" 1/2"

3350x1740x2200

3000

17

10

14

13

SLDY-132

132

180

23

8

60

1-1" 1/2"

3350x1740x2200

3500

21

10

17

13

SLDY-160

160

220

27

8

100

1-1" 1-1 1/2"

3650x1724x2484

4200

25

10

20

13

SLDY-185

185

250

30

8

100

1-1" 1-1 1/2"

3650x1724x2484

4500

27.5

10

24

13
Contact Us
Room 306, 2#Building, No.21 Sanhuan, Fengtai District, Beijing, Beijing, 100079, China
Phone :86-10-67646271