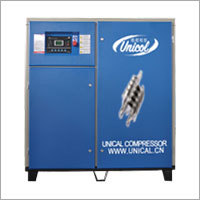 Low Pressure Screw Compressor
Product Code : 07
Product Description
Offered under SLQ series of items, this Low Pressure Screw Compressor has extensive applications in glass processing, textile and cement production industries. Using air compressor of 0.7 MPA exhaust pressure capacity sometimes leads to wastage of huge amount of electricity in case the application requires only 0.2-0.5Mpa exhaust pressure as its working process involves: the air pressure will be compressed into 0.7 Mpa by the screw compressor. Later this pressure will be minimized into 0.3 Mpa via pressure reducing valves and other components. This low pressure compressor will not only improve compressed air production capacity of motor, but will also assist in minimizing electricity consumption level.
We can prove it from the gas displacement:
This low pressure compressor with 37m3 / min gas displacement (F.A.D) is preferred over 0.7Mpa screw air compressor with 24m3 / min gas displacement (F.A.D). Its energy efficient operation helps to minimize its operation cost to a great extent.

Its advanced mechanism assists in mechanical adjustment of internal compression rate. Moreover, it helps to reduce power usage rate under 0.2~0.5Mpa exhaust pressure.

It can work even under extremely low exhaust pressure level.
| | | | | | | | | |
| --- | --- | --- | --- | --- | --- | --- | --- | --- |
| Model no | Motor power (kv) | Power (Hp) | Air delivery (m3/min) | Working pressure (bar) | Lubricant Oil (L) | Outlet pipe dia | LxWxH (mm) | N.W (KG) |
| SLQ-22 | 22 | 30 | 6.0 | 4 | 20 | G1-1/4" | 1500x950x1380 | 800 |
| SLQ-45 | 45 | 60 | 12.0 | 4 | 35 | G2" | 2100x1200x1600 | 1900 |
| SLQ-75 | 75 | 100 | 20.0 | 4 | 50 | DN65 | 2500x1500x1950 | 3400 |
| SLQ-90 | 90 | 120 | 22.0 | 4 | 50 | DN65 | 2500x1500x1950 | 3400 |
| SLQ-132 | 132 | 180 | 30.0 | 4 | 60 | DN80 | 2800x1560x1920 | 4900 |
| SLQ-185 | 185 | 250 | 40.0 | 4 | 400 | DN1000 | 3360x2000x2000 | 4900 |
Contact Us
Room 306, 2#Building, No.21 Sanhuan, Fengtai District, Beijing, Beijing, 100079, China
Phone :86-10-67646271