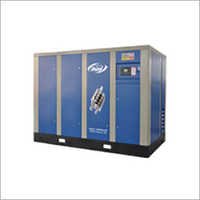 Double Stage Screw Compressor
Product Description
Accessible in 16 different models, this Double Stage Screw Compressor is reckoned for its utilization of energy efficient motor, advanced control section, cutting edge safety control valve and filtration section with ergonomic design. This screw compressor is preferred over its single stage based version for its higher load enduring capacity. Suitable for large scale project purpose, this type of compressor requires uninterrupted supply of compressed air for its operation. Advanced oil leakage protection arrangement of this compressor promotes its oil injection process. We would like to introduce ourselves as a quality conscious manufacturer and exporter of Double Stage Screw Compressor.

Double stage screw compressor
Two stage compression reduces each level of compression ratio and leakage, improving volume efficiency, so that reduced the bearing load, and improving the service life of the air end.

Two compression instead of single-stage compression, the exhaust volume increased by nearly 15%, can achieve more than 15% of the energy saving effect.

The rotor adopts the latest design patented line of UV rotor, after finishing 20 process, ensure the rotor profile accuracy, reliability and validity.

The first-stage compression rotor and the second-stage compression rotor are combined in one casing and directly transmitted through the helical gear, so that the optimal linear speed can be obtained for each stage rotor, and the compression transmission efficiency is the highest.

The compression ratio of each stage is reduced by the exact design of the bearing and gear load.

The patented oil lubrication system separates the compression chamber and the bearing oil separately. The compression chamber adopts the common cleanliness lubricating oil. The bearing part adopts the high cleanliness lubricating oil to ensure the high reliability of the bearing.

Level compression ratio is small Each the leakage is smaller the volumetric efficiency is high.

The same power the load is borne by two heads the bearing force is small and the life is longer. Under.
Model no

Motor power (kw)

Working pressure (bar
)

Air delivery (m3/min)

Outlet pipe dia

N.W (KG)

Size: LxWxH (mm)

SLR-22S

22

8

4.1

G1-1/2

730

1650*880*1280

10

3.5

13

3.2

SLR-30S

30

8

6.4

G1-1/2

980

1650*880*1280

10

4.9

13

4.2

SLR-37S

37

8

7.1

G1-1/2

1080

2000*1260*1560

10

6.3

13

5.4

SLR-45S

45

8

9.7

G2"

1980

2000*1260*1560

10

7.8

13

6.5

SLR-55S

55

8

12.5

G2"

2180

2100*1360*1660

10

9.6

13

8.6

SLR-75S

75

8

16.5

G2"

2280

2100*1360*1660

10

12.5

13

11.2

SLR-90S

90

8

20

DN65

3000

2550*1730*1918

10

16.9

13

14

SLR-110S

110

8

23.5

DN80

3400

2550*1730*1918

10

20

13

17

SLR-132S

132

8

28

DN80

3500

2855*1730*1918

10

23.5

13

19.5

SLR-160S

160

8

33

DN80

3850

2855*1730*1918

10

28

13

23

SLR-185S

185

8

38

DN80

3890

3200*1730*1918

10

32.5

13

27.5

SLR-200S

200

8

43

DN100

5700

3200*1730*1918

10

38.5

13

33

SLR-220S

220

8

47

DN125

6500

4000*173091918

10

41.5

13

38

SLR-250S

250

8

54

DN125

6500

4000*2120*2200

10

45

13

40

SLR-280S

280

8

56

DN125

7200

4350*2050*2120

10

50

13

43.5

SLR-315S

315

8

66

DN125

7800

4350*2050*2120

10

60

13

53.5
Contact Us
Room 306, 2#Building, No.21 Sanhuan, Fengtai District, Beijing, Beijing, 100079, China
Phone :86-10-67646271