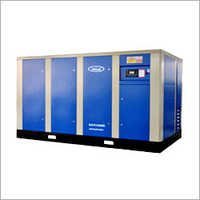 Double Stage Screw Air Compressor
Product Description
With our rich industry experience, we are manufacturing and exporting a wide gamut of Double Stage Screw Air Compressor. The offered compressor is manufactured using optimum quality cutting-edge technology. These compressors are equipped with efficient filtration & separation system, this kind of air compressor is ideal to be utilized for providing fresh environment to varied places and for exhausting the air to the outward area of the workplace. These compressors are extensively demanded in textiles, cement, foundries and many other industries. Our offered Double Stage Screw Air Compressor can be availed at moderate rates from us.
Energy Saving Air Intake Control System
Intake air control system has a check valve, which automatically closes in an event when the air compressor stops or suddenly stopped and there is no gas supply. It prevent air back flow as well as avoid spit oil phenomenon.
New type Temperature Control Oil Filtering Combined Valve
In the patented design, oil filter and temperature control valve are combined. This two valve integration doesn't require a connecting pipe. It reduces the leakage and the failure rate, as well as saves more energy. The issues solved by this design are hard tube cracked and oil leakage.
Electromagnetic Valve
The Germany produced Electromagnetic Valve, also called Solenoid valve rolersing direct acting solenoid valve, immediately opens responsively when in contact with current. Compared to the traditional pilot solenoid valve, this solenoid valve is more sensitive and its linkage control system more accurate, timely and safe.

Electrical components

French Schneider Inc professional production

Wearing parts

Air filter element: With professional surface nano coating, it doesn't have to change the direction of air flow, directly through the filter media, which reduces the pressure loss. This has better filtration accuracy and more energy saving than traditional air filter.
Oil Filter: This precisely designed and durable filter makes the machine more stable.
Oil Separator: Special simplified design, wherein, separating core and the oil return device function together and ensures that the oil content is 2ppm.
Technical Specifications:
Model

Motor power (kw)

Pressure (bar)

Air delivery (m3/min)

Out dia

Weight (kGS)

Size (Lx W x H) mm

SLR-22S

22

8

4.1

G1- 1/2

730

1650x880x1280

10

3.5

13

3.2

SLR-30S

30

8

6.4

G1- 1/2

980

1650x880x1280

10

4.9

13

4.2

SLR-37S

37

8

7.1

G1- 1/2

1080

2000x1260x1560

10

6.3

13

5.4

SLR-45S

45

8

7.8

G2''

1980

2000x1260x1560

10

6.5

13

12.5

SLR-55S

55

8

9.6

G2''

2180

2100x1360x1660

10

8.6

13

16.5

SLR-75S

75

8

12.5

G2''

2280

2100x1360x1660

10

11.2

13

19.2

SLR-90S

90

8

16.9

DN65

3000

2550x1730x1918

10

14

13

23.5

SLR-110S

110

8

20

DN80

3400

2550x1730x1918

10

17

13

25

SLR-132S

132

8

23.5

DN80

3500

2855x1730x1918

10

19.5

13

33

SLR-160S

160

8

28

DN80

3850

2855x1730x1918

10

23

13

38

SLR-185S

185

8

32.5

DN80

3890

3200x1730x1918

10

27.5

13

43

SLR-200S

200

8

38.5

DN100

5750

3200x1730x1918

10

33

13

47

SLR-220S

220

8

41.5

DN125

6500

4000x1730x1918

10

38

13

54

SLR-250S

250

8

45

DN125

6500

4000x2120x2200

10

40

13

56

SLR-280S

280

8

50

DN125

7200

4350x2050x2120

10

43.5

13

66

SLR-315S

315

8

60

DN125

7800

4350x2050x2120

10

66

13

53.5

Contact Us
Room 306, 2#Building, No.21 Sanhuan, Fengtai District, Beijing, Beijing, 100079, China
Phone :86-10-67646271